SOTA Activation of Coosa Bald
On Saturday, January 30, we got up bright and early (4:30 am) to get an early start up to Vogel State Park to hike to Coosa Bald (via the Coosa Backcountry Trail) to attempt our second SOTA activation. The drive to the mountains went smoothly with little traffic, and shortly after parking and checking in with the park office, we were ready to start our hike up. Our trusty Osprey packs were loaded with water, food, extra clothing, and of course, our radio equipment. It was cold outside, but the wind made it feel even colder, but we did not let the weather deter us.
The hike started off relatively smoothly – it was an easy walk through the park to reach the trailhead. Once we started on the trail, we noticed that there were a lot of downed trees, but they were easy enough to navigate. Once we reached the split for the Coosa Backcountry Trail, we hooked a left to do the trail counter clockwise (per some recommendations we read online). We did read that this trail should not be considered a day hike, but after coming off our trip to Springer Mountain the weekend before (~20 miles round trip), we felt fairly confident that we could easily handle this in a day. It wasn't long before we realized why this wasn't suggested as a day hike…
A couple miles into the trail, we started our climbing…and we kept climbing…and then we climbed some more. To reach Coosa Bald, we increased in elevation approximately 2000 ft, and there were definitely some places where it felt very steep. It is fair to say that we were questioning our choice to do this hike in places, but we were determined to make it to the summit. After about 5 hours of strenuous hiking, we reached the Coosa Bald summit at approximately 2:15 EST.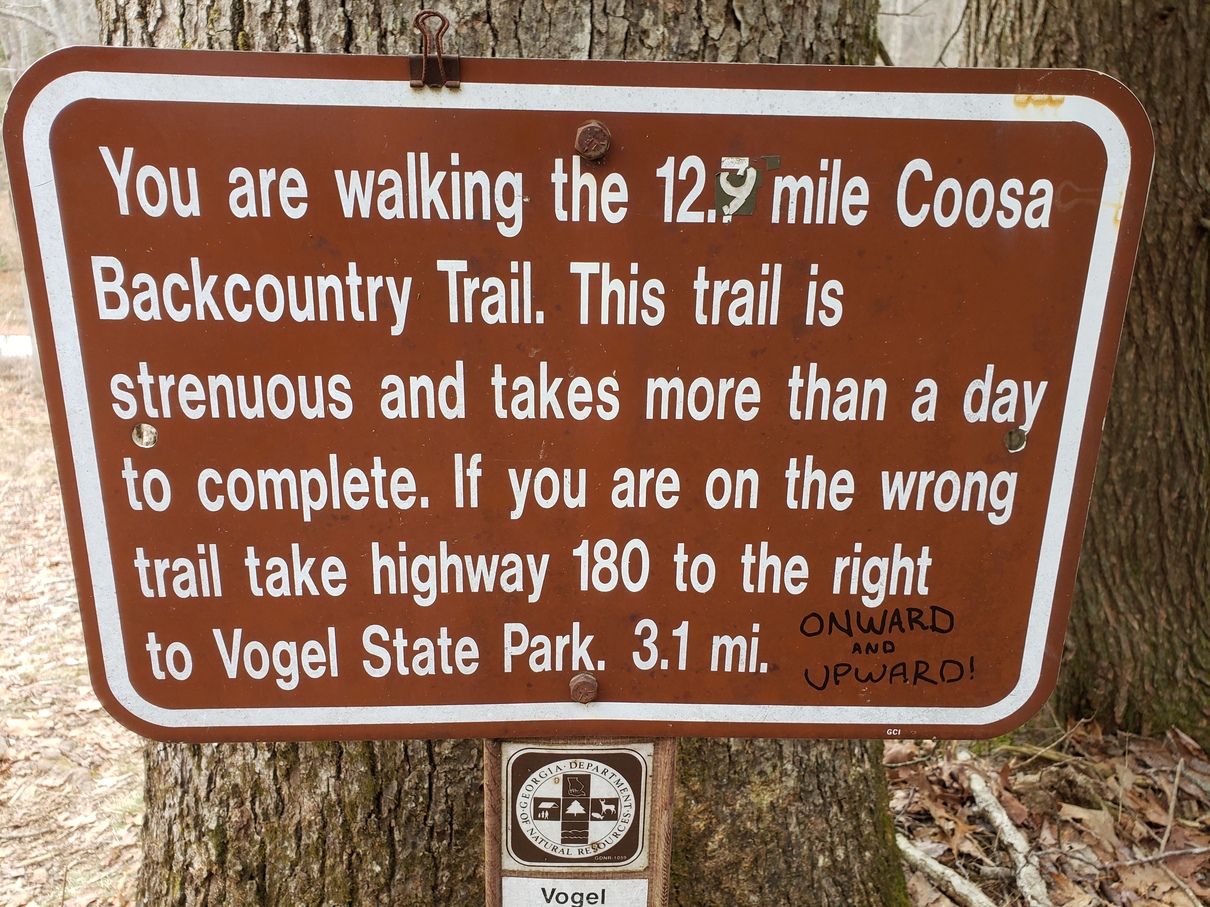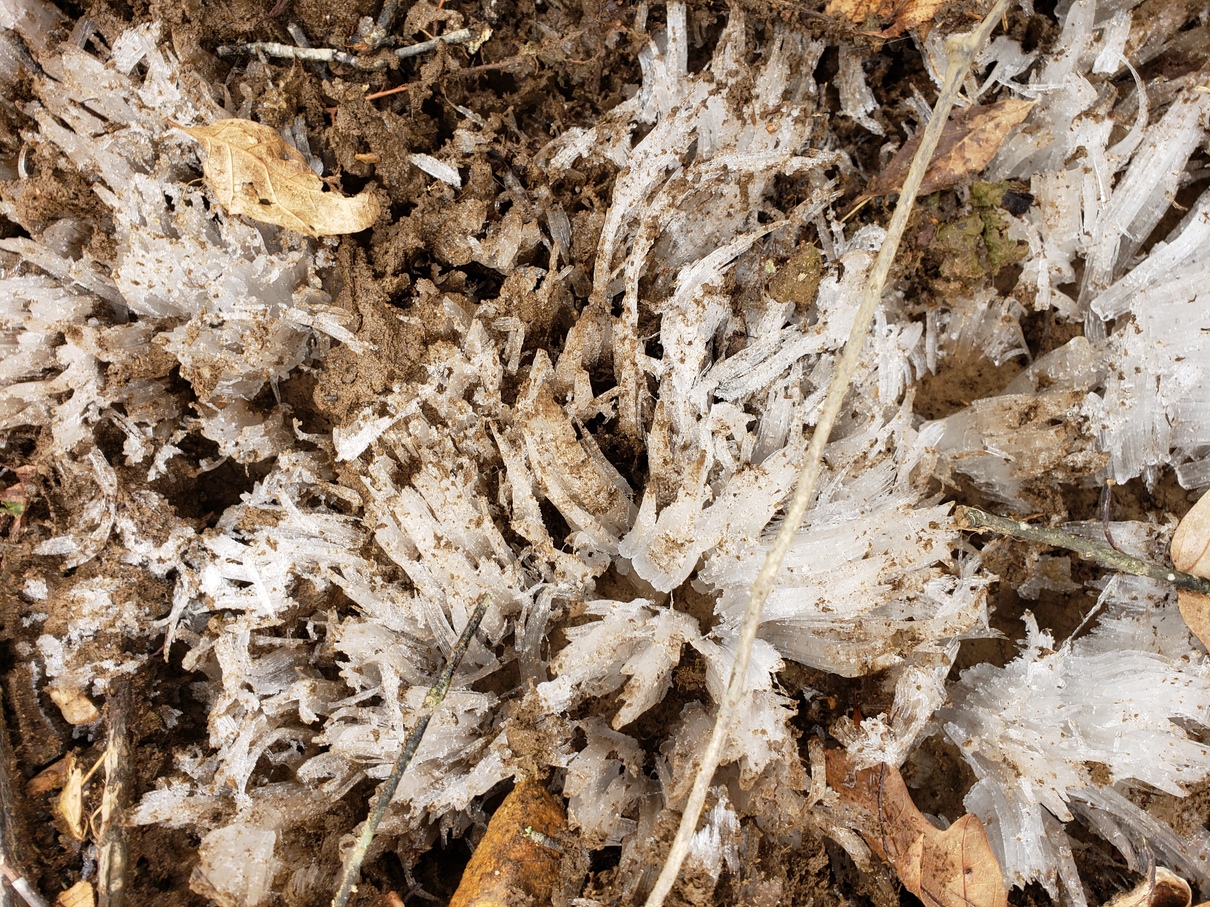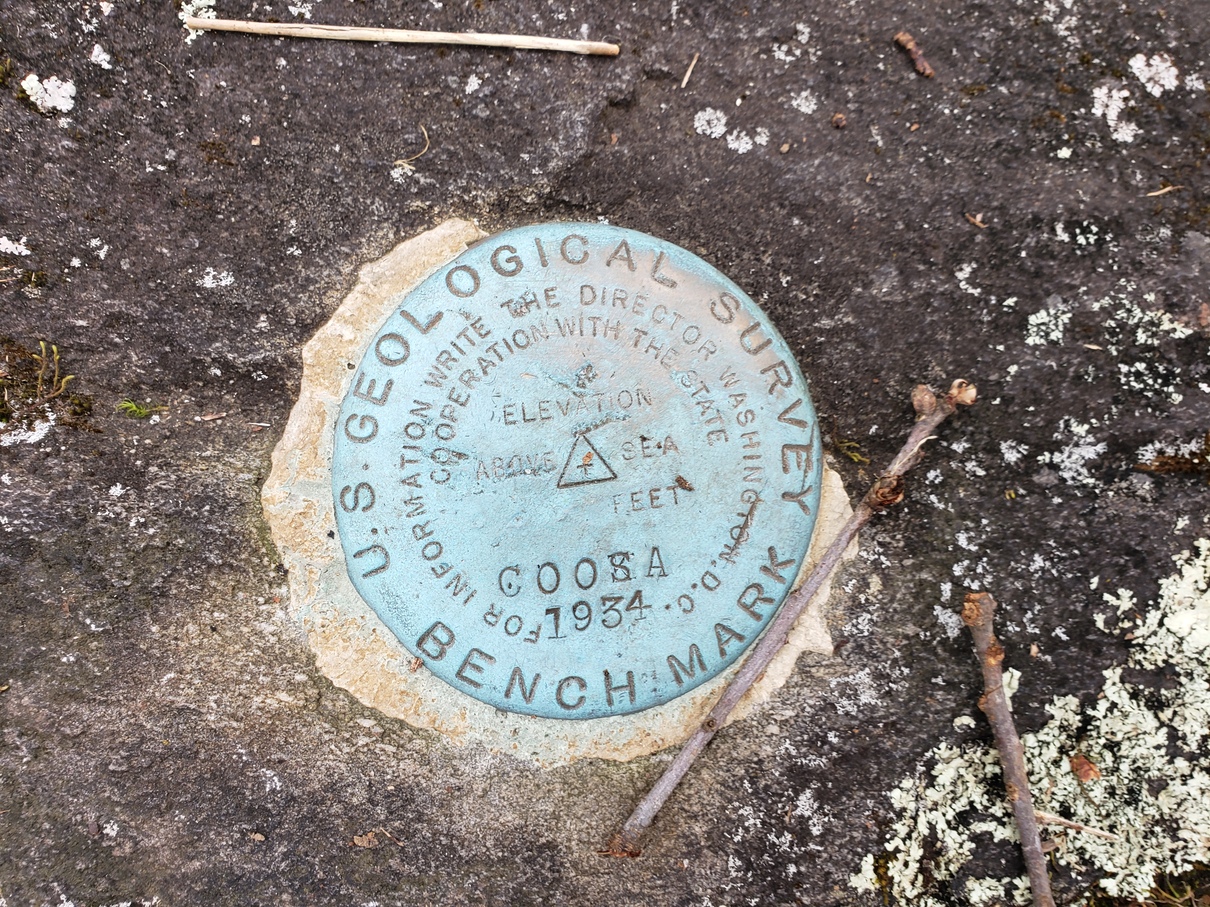 Coosa Bald Sights
Once we reached the summit, we hung our slim jim antenna from a tree and started scanning the 2M band. We spent a few minutes high fiving and taking pictures, and then we threw on some extra layers (it was extremely cold and windy on the summit) and devoured lunch. As we were preparing to call CQ on 146.52 MHz, we started hearing some chatter from other hams who said they were approaching the summit! We overheard that they were about 5 minutes from the summit, so we decided to wait a few minutes before calling CQ.
It wasn't long before the folks we overheard reached the summit, and as soon as they arrived, we had a nice chat with them. They were also on Coosa Bald to do SOTA activations, only they were considerably more experienced (both hold Amateur Extra licenses and have done many SOTA activations). Needless to say, we asked them A LOT of questions, and they were kind enough to send out a SOTA spot for us (to alert other hams that we were attempting activations). Several of their friends were awaiting their arrival to the summit, so they were also kind enough to serve as contacts for us as well!
Once we called CQ, we had 4 confirmed contacts in under 10 minutes. With the new slim jim antenna, our reception was very clear, and we were receiving solid signal reports about our transmissions (3 reports of 5/9 and 1 report of 4/4, and that contact was located ~65 miles south in Alpharetta!). We decided to pack up after the four confirmed contacts because of how cold it was getting on top of the summit (we were quite jealous of the campers there who had a nice fire going), so after a quick walk over to see our new friends' setup for attempting HF contacts, we departed to tackle the last leg of the hike.
The hike back to Vogel State Park was relatively uneventful, although there was another section of some climbing near Slaughter Mountain. As we approached the end of that section, we had a nice chat with another hiker and explained how we're branching out to do SOTA activations. It was a nice break before that final push to the top before reaching the descent back into the park. Unfortunately, our timing was a bit off, and we had to break out headlamps for the last mile to the parking lot. Once we got things stored away, we cranked the heat up and drove to Dawsonville in search of warm food (lots of pizza and fried appetizers!).
Overall, our second SOTA activation was a success. Although the hike was more difficult than anticipated (though given the history of our adventures, it should not have been unexpected), getting to chat with other hams and learn more about SOTA was totally worth the effort. We're now planning our next hike to get more SOTA bonus points before winter is over ;)
73!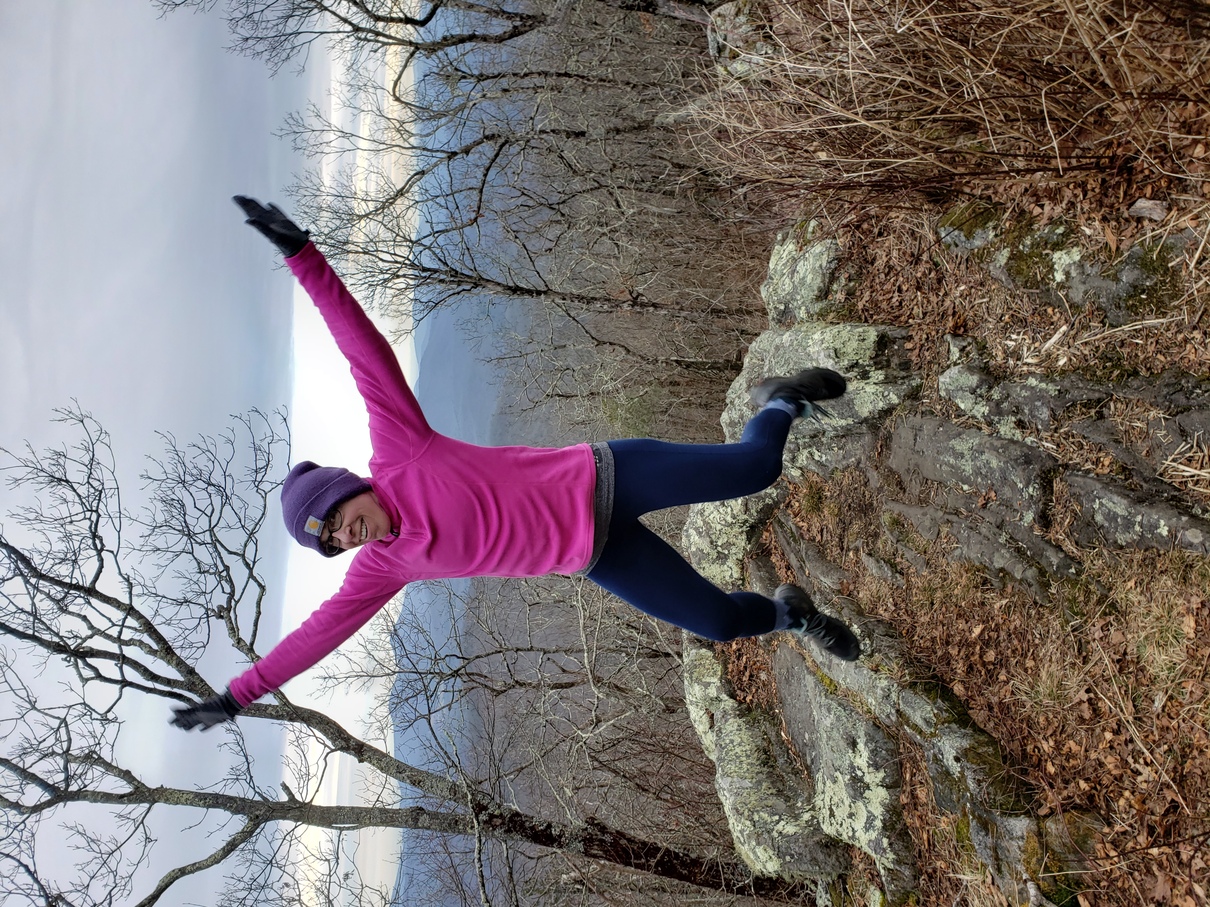 KO4KVG celebrating reaching the summit
Gear List
Osprey Talon 22 (KO4KVH) and Osprey Tempest 20 (KO4KVG) Packs
2x Yaesu FT60R 5W FM handhelds
2x Garmin Fenix 5X
Extra layers (it was cold!)
Plenty of nutrition