SOTA Activation of Double Spring Knob
After thawing out from the Coosa Bald hike, we set our sights toward another SOTA activation: Double Spring Knob for the 10 + 3 activation points. As we are 2+ hours away from the North Georgia mountains, we wake up at 4am such that we can arrive at the trailheads before the parking lots fill up, and this hike was no exception. After a couple cups of coffee; some sausage, egg and cheese biscuits; and loading the car, we were on the road around 6am. On the ride to the trailhead, Ben was able to make a contact via the Gainesville repeater and enjoyed the impromptu ragchew while driving.
We began our hike at the Dicks Creek Gap trailhead, which is a small parking lot directly off of US-76. We arrived at approximately 8:30am, and we luckily found the last parking spot. We bundled up (learning from the Coosa Bald hike, I brought my heavy Columbia coat and purchased Gordini Lily Gloves from the REI Outlet to use henceforth, as I was lacking in the warm gloves department) and headed on the trail toward Double Spring Knob.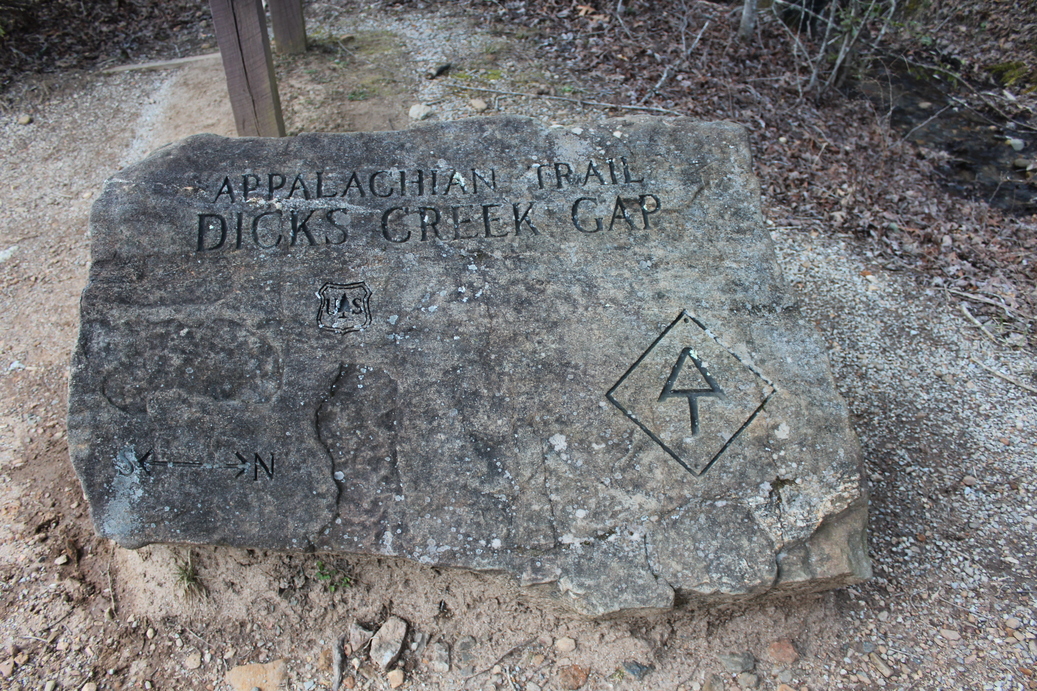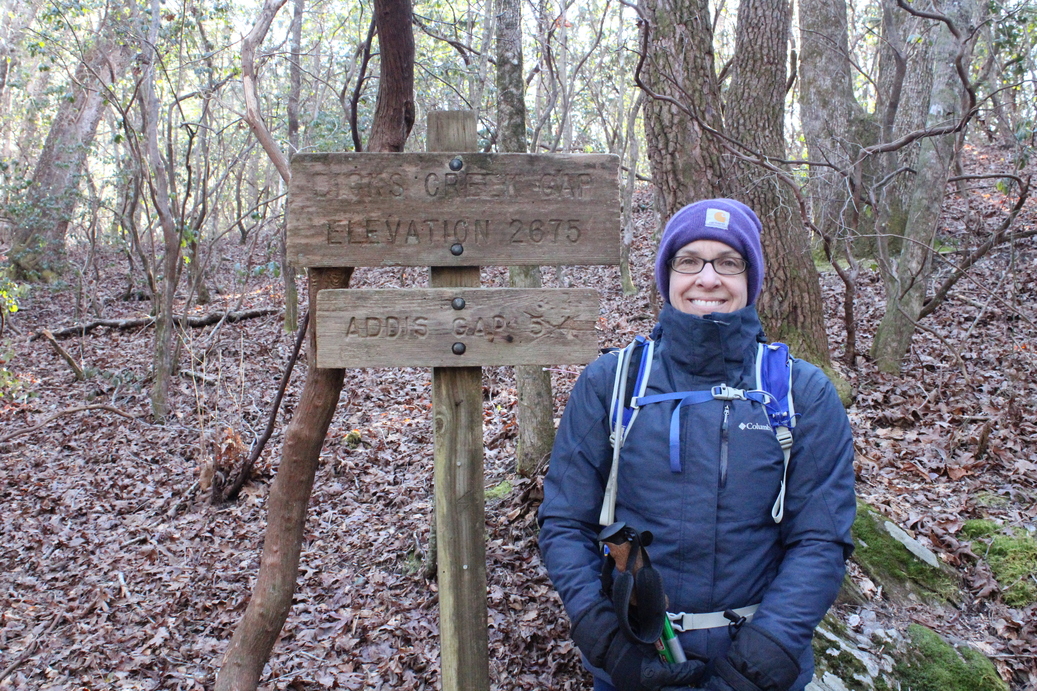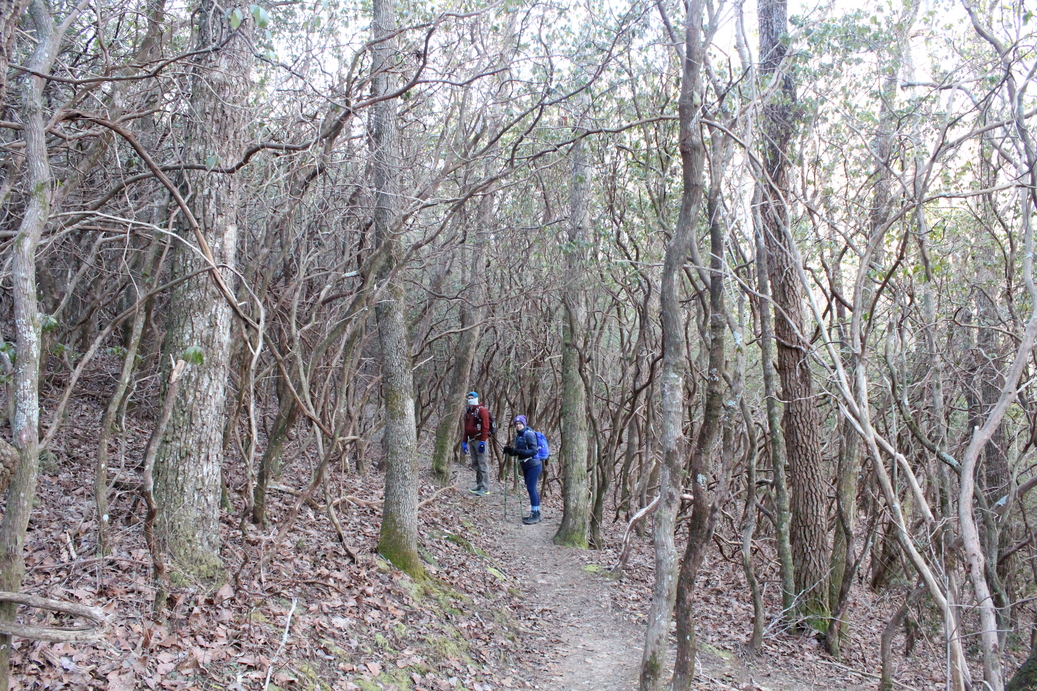 L to R: AT Marker for Dicks Creek Gap, Ready for the Cold, Just Getting Started
As with the AT sections I have been on, we started climbing almost immediately upon beginning the hike. As it is late February, we observed more greenery on the trail, indicating that Spring is not too far away! Also, this trail provided scenery in the form of beautifully weathered trees encompassing the trail. Less than two miles in, we also encountered Carnes Cascade and stopped for a moment to enjoy the view of the water tumbling down the rock. As the temperatures were just above the freezing point, we also observed beautiful ice crystals that formed alongside the trail.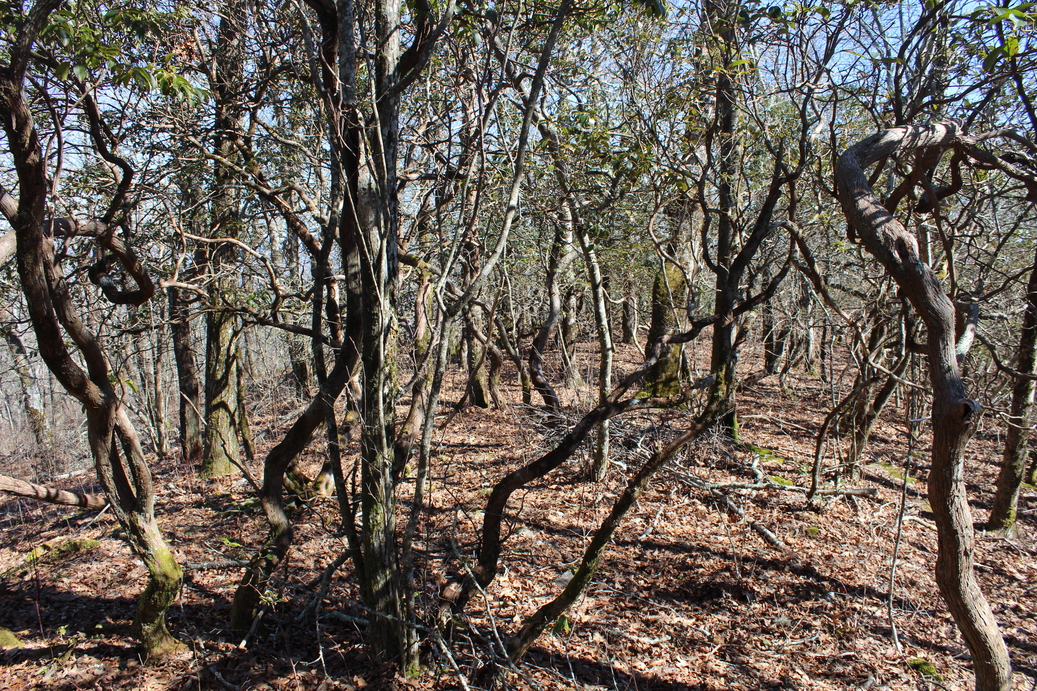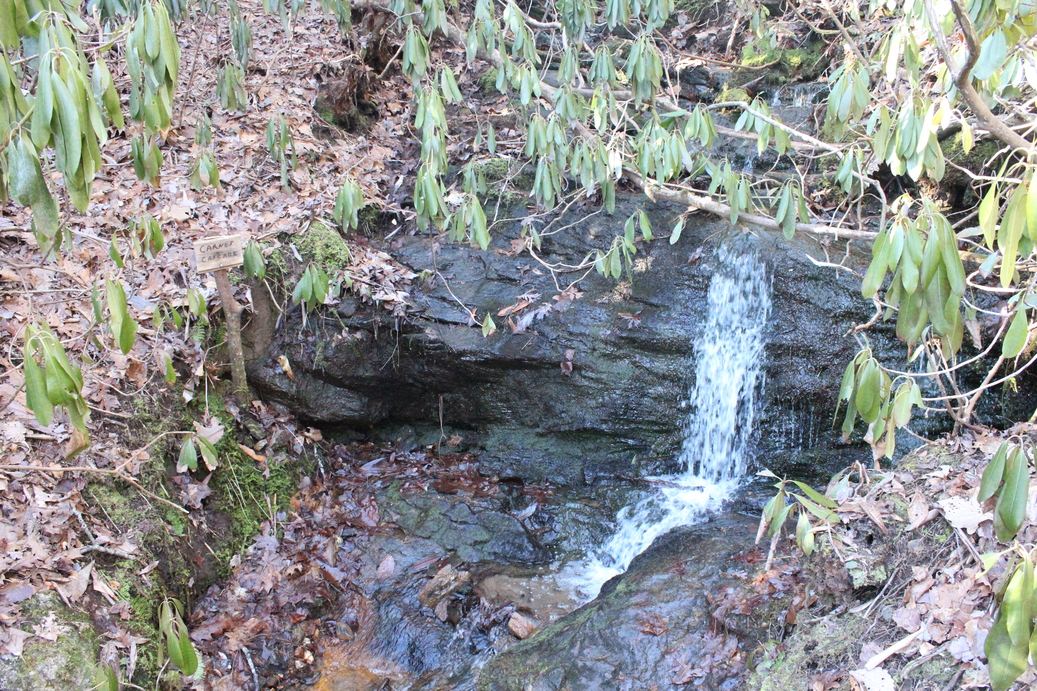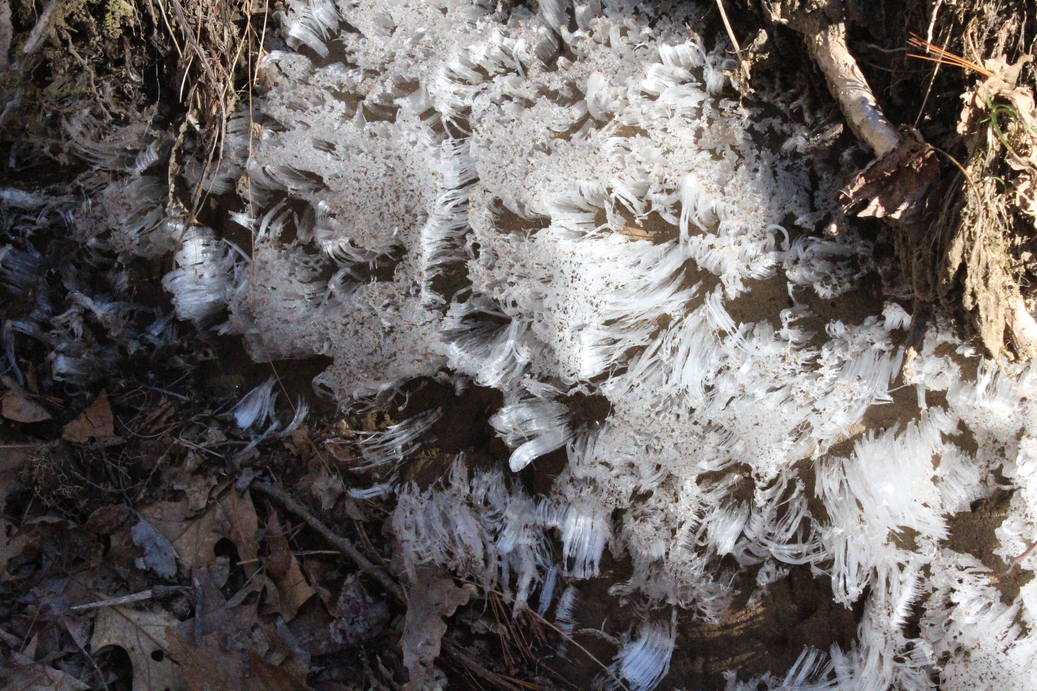 L to R: Scenic Weathered Trees, Carnes Cascade, Ice Crystals
Throughout our hikes, we do keep our Yaesu FT-60Rs tuned to 146.52. In doing this, we heard a hiker calling QC SOTA from Pinnacle Knob. As it turned out, it was one of the SOTA hikers we met on the summit of Coosa Bald, and he remembered us! It was great chatting with him and also being a SOTA Chaser for the first time. As we got closer and closer to the Double Spring Knob summit, we heard another ham calling QC POTA from Pickens, SC. It was great to hear hams on the air while enjoying being outside (especially since it was one of the first sunny days following a long rainy streak)!
At approximately 12:30pm EST and 5.5 miles into the hike, we made it to the Double Spring Knob summit. As this summit requires trekking through brush, we had the summit to ourselves. Ben put up our N9TAX roll up slim jim antenna, and we kept our radios tuned to 146.52 and listened while we ate our lunch (given the cold, we cooked a hot lunch of Ramen noodles with steak rather than having our usual sandwiches). We had initially planned to get our SOTA QSOs after lunch. However, as the ham in SC was still contesting for POTA QSOs, we pressed the PTT button, making him our first QSO. Following this QSO, we also heard another familiar voice on the radio from Orlando, FL (he was operating his station in NC remotely), as he was one of my first QSOs on Springer Mountain. Two QSOs before lunch? We'll take it!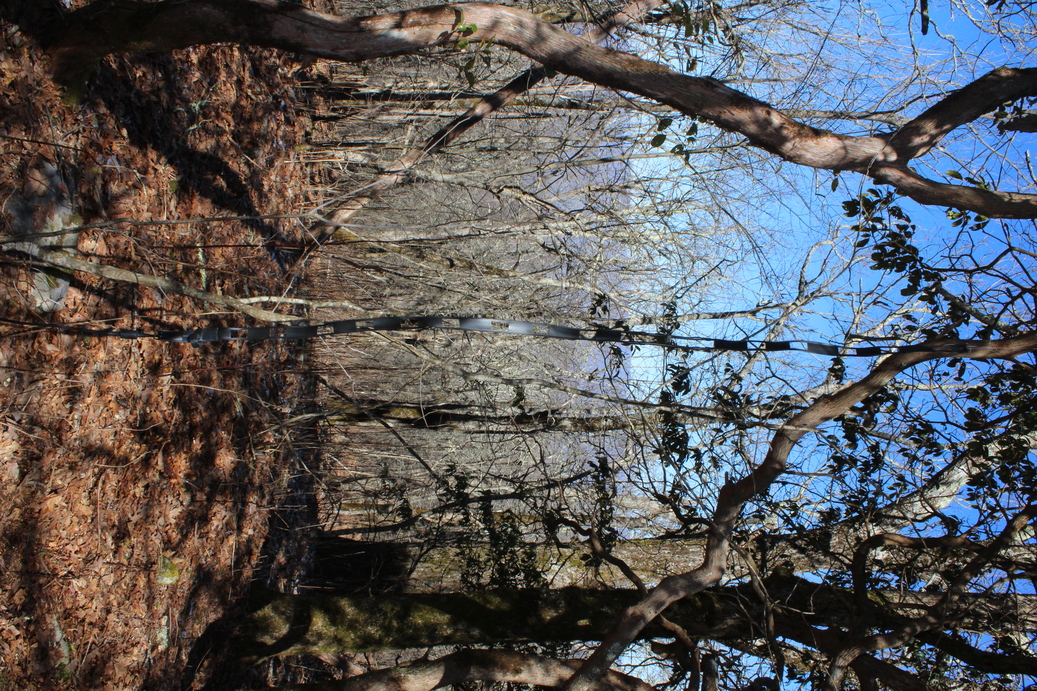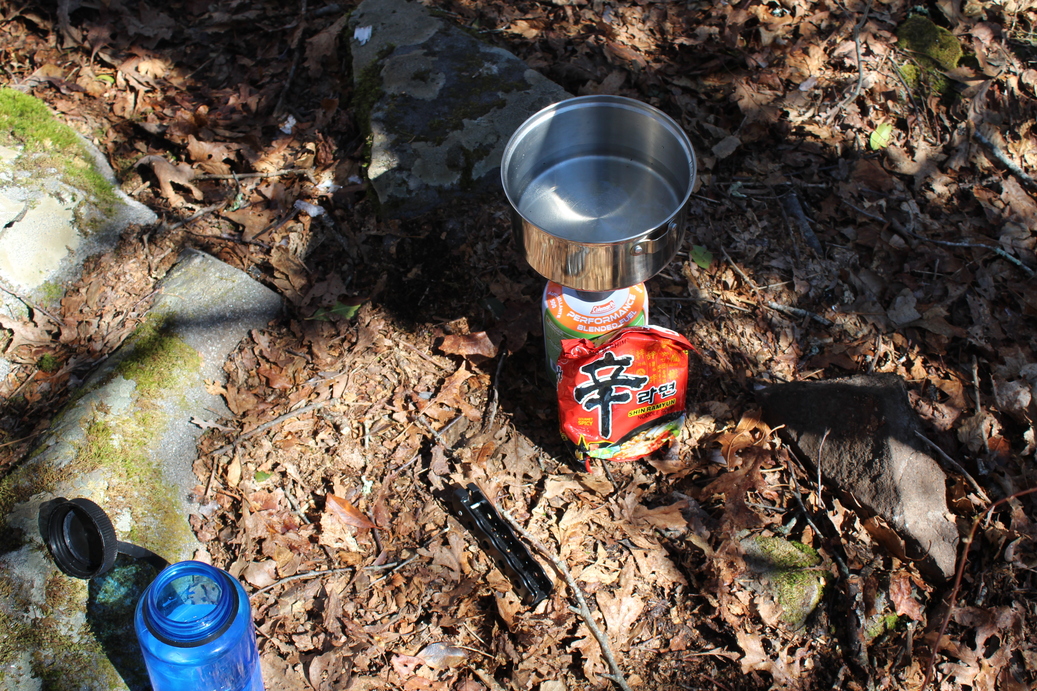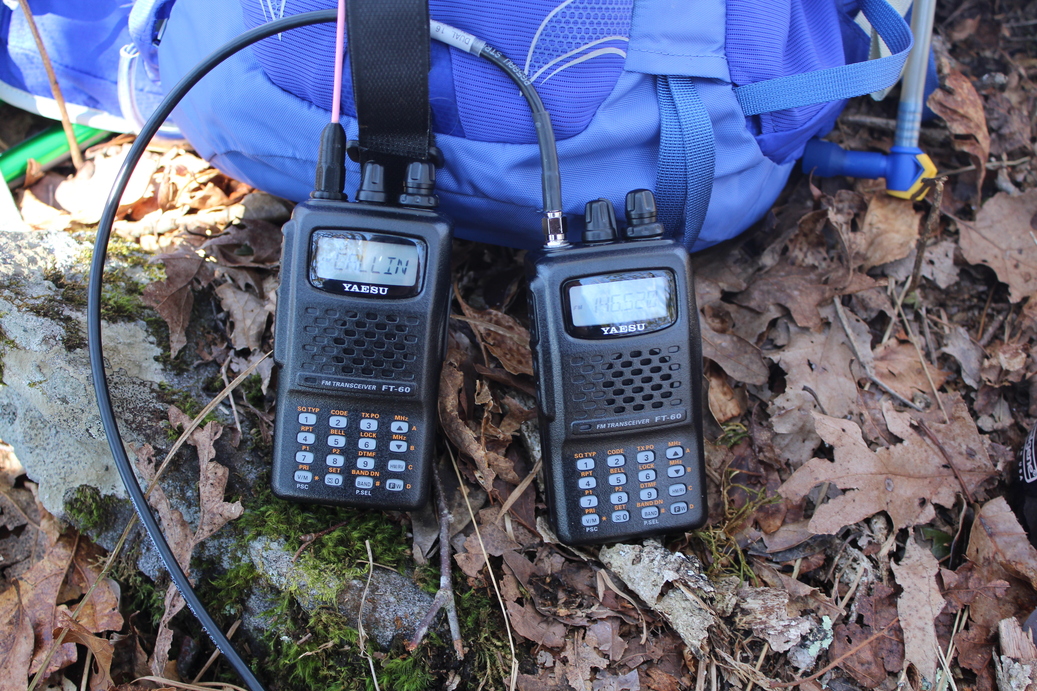 L to R: Roll-Up Slim Jim Antenna, Ramen Noodle Lunch, Yaesu FT60R HTs
While eating lunch, 146.52 got quiet, and we were convinced we weren't going to get our four QSOs. We called CQ SOTA a few times with no response, so we decided to give it a few minutes before attempting to round out our 4 contacts. We spent time looking around and packing up a few items when we spotted a metal tag on a tree: it was a SOTA tag for the Double Spring Knob summit, along with its summit code (the cover photo for this post). This is the first one of these we've seen, and we hope to see more on future hikes.
We were about to call the SOTA activation a bust and began packing up our gear when we heard some on 146.52 announce "Are there any SOTA activators out there?" We quickly jumped on the air, and we obtained two more QSOs from a couple in Young Harris, GA, that was looking forward to getting back outside after completing their home painting projects. After our successful SOTA activation, we gathered up the remainder of our stuff and got ready to go back down when we heard another QC SOTA come through with a familiar call sign: this was a family that served as my first (and also their first) SOTA Summit to Summit (S2S) QSOs. Thus far, we have seen what a small world it is within the SOTA amateur radio community. I hope to meet more of these hams in person as time goes on (and the weather gets warmer)!
As we began our descent from the summit, Ben and I ended up taking two separate routes to get back on the AT portion of the trail. Long story short, Ben went far below the trail where we couldn't see each other (which resulted in more steep climbs and descents for him); however, having the HTs helped us stay in contact while navigating separate routes back to the trail. At least Ben got to see a waterfall through his extra wandering in the woods!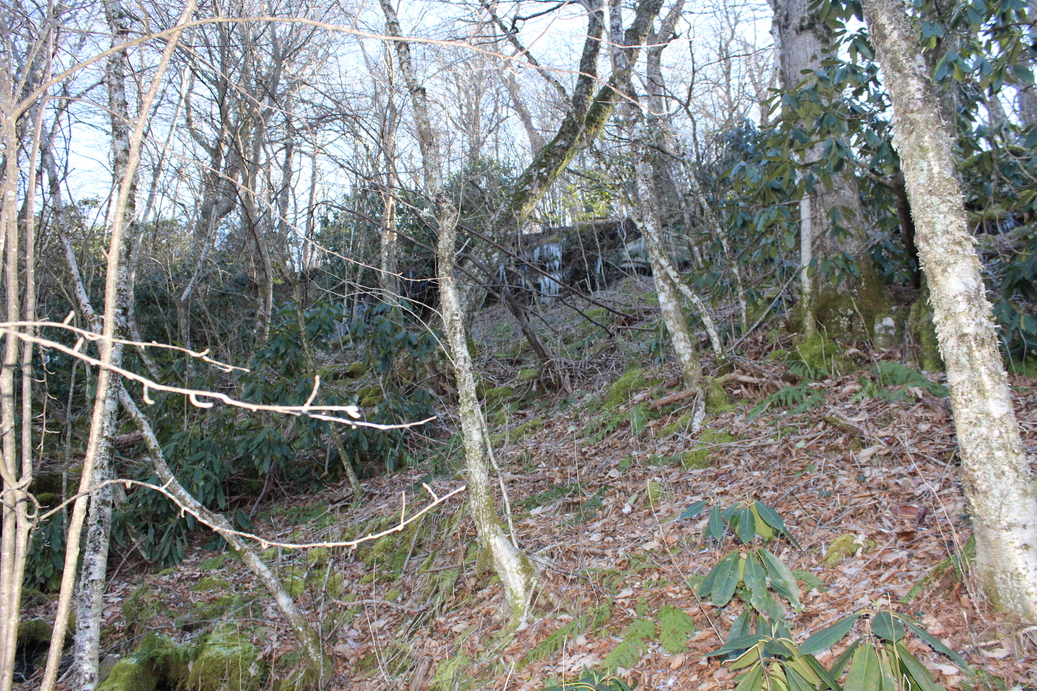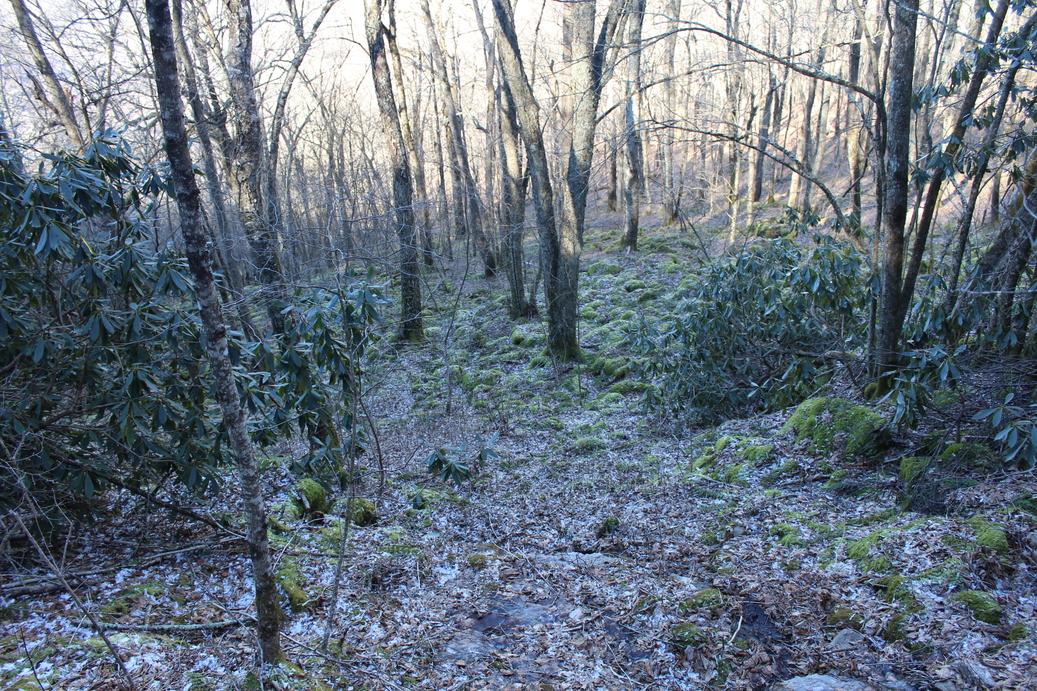 Some scenery from the descent from Double Spring Knob
The descent back to the trailhead was, thankfully, fast and uneventful. With less than a mile left to the car, we encountered a hiker that has spent many years hiking in this region, and they provided us several recommendations for future hikes. We got back to our car while the sun was still up, which was a nice change from our past two adventures, and we started the long drive home. Unsurprisingly, we were pretty hungry around dinner time, so we stopped at a Mexican restaurant about halfway home to fill up on some hot food while reflecting on the hike.
All in all, this SOTA activation of Double Spring Knob was a success: I was much better prepared for the cold weather, and we really enjoyed chatting with both new hams as well as hams we've encountered previously (in person and on the air). Onward for more hikes and as many SOTA activations as possible before the winter bonus period is up!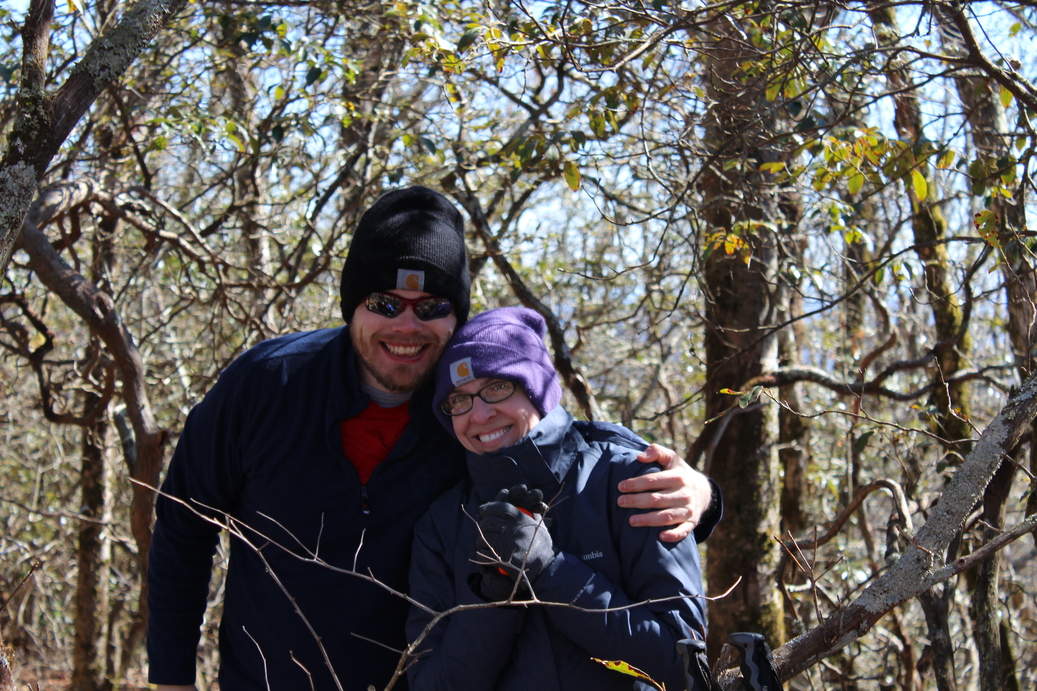 KO4KVG and KO4KVH Atop the Double Spring Knob Summit
73, Rebecca KO4KVG